Hello everyone, my name is Martha. I am the owner and director of Mia & Co. Welcome!

When I started Mia & Co, I had come from a background in graphic and digital design, visual merchandising and interior styling, and was super excited about creating a store where I would want to shop. A place which inspires women to individualise and express their personalities through the pieces they wear, in a way that allows them to exude confidence with brands that flatter their figures no matter what their body shape.
I believe every woman should feel empowered to look and feel amazing every day. I want women to enjoy a feel-good experience in my store, and through the pieces I select for my customers (and that they discover for themselves).
I have curated a selection of pieces made to last (believing slow fashion is best), finding breathable, natural fabrics like linen and bamboo and only the very most comfortable jeans.
You can call me a dreamer, an inspirer of good design and statement pieces. I am always on the hunt for ethical brands, statement jewellery, well designed clothing, bespoke leather bags and vegan faux fur.
I am grateful you have discovered my small business brand and hope you will enjoy following along on our story and shopping for our pieces.
With love,
Martha and the Mia & Co Team
I N S T A G R A M: miaandco.clothing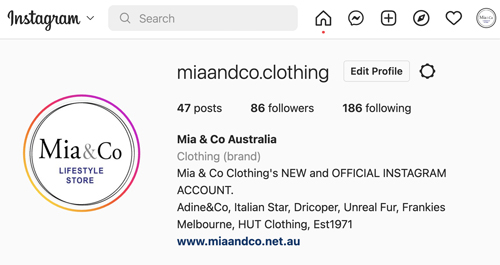 F A C E B O O K: miaandco.clothing